Mullen: Pakistan's ISI spy agency has 'militant links'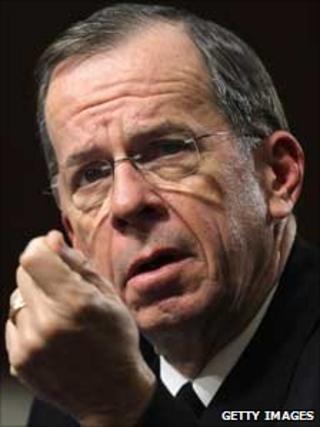 The US military's top officer, Adm Mike Mullen, has accused Pakistan's spy agency of having links with militants targeting troops in Afghanistan.
He said Pakistan's Inter-Services Intelligence (ISI) had a "long-standing relationship" with a militant group run by Afghan insurgent Jalaluddin Haqqani.
The comments came as he held talks in Islamabad on Wednesday. Pakistani officials are also in the US for talks.
Pakistan routinely rejects charges of collusion with militants.
The BBC's M Ilyas Khan in Islamabad says that US officials have in the past spoken anonymously or in circumspect terms about associations between the Pakistani establishment and insurgents.
But that with this blunt statement Adm Mullen has for the first time claimed a clear link between the two, our correspondent says.
"It's fairly well known that the ISI has a long-standing relationship with the Haqqani network," Adm Mullen told Pakistan's Dawn newspaper.
"Haqqani is supporting, funding, training fighters that are killing Americans and killing coalition partners. And I have a sacred obligation to do all I can to make sure that doesn't happen."
He said the spy agency's support of the network remained at the "core ... and the most difficult part of the relationship" and that he would take it up with Pakistan's army chief Gen Ashfaq Kayani.
'Negative propaganda'
But a senior Pakistani intelligence official told the Reuters news agency that the accusation was unfounded.
"If he means we're providing them with protection, with help, that's not correct," the official, who wished to remain unnamed, told Reuters.
A statement from Gen Kayani, released after their meeting, rejected what it termed as "negative propaganda of Pakistan not doing enough".
But the statement also said that the strategic relationship between the countries was important for their mutual security.
On Thursday Pakistan's Foreign Secretary Salman Bashir is scheduled to hold talks with US State Department officials in Washington, in what is being billed as an effort to improve relations.
US-Pakistan ties have struggled to recover following the row over CIA contractor Raymond Davis - who was arrested and later released after shooting dead two Pakistani men in Lahore. The case stoked anti-American feeling across Pakistan and led to angry demonstrations
Recent reports following a meeting between the heads of the countries' spy agencies in Washington, suggested that Pakistan had demanded certain restrictions to the CIA's activities in Pakistan.
Anti-US sentiment has also been exacerbated by US drone strikes targeting militants in the north-west of the country.
Drone anger
US drone attacks have escalated in north-west Pakistan since President Barack Obama took office. But they are hugely unpopular with the Pakistani public. Many militants, some of them senior, have been killed in the raids, but hundreds of civilians have also died.
The US does not routinely confirm it is conducting drone operations in Pakistan, but analysts say only American forces have the capacity to deploy such aircraft in the region.
Analysts believe that Haqqani's insurgent network has been based in Pakistan since 2001, and that the ISI still exerts considerable influence over it.
The group has been blamed for some of the deadliest attacks on foreign troops across the border in Afghanistan.
Though the Pakistani military has routinely rejected any ties with the militants operating in Afghanistan, many analysts believe collaboration between the two is an open secret, our correspondent says.
Indeed analysts argue that Pakistan has always maintained links with some militant groups in order to try to influence events in neighbouring Afghanistan..
The timing of these remarks, our correspondent adds, suggests that the US is stepping up pressure on Pakistan to relinquish any links with Afghan militants ahead of the US forces' impending withdrawal from Afghanistan.