India nuclear plant protests stepped up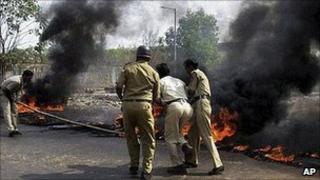 Crowds ransacked a hospital and set buses alight in a second day of violent protests against a planned nuclear power plant in western India.
Reports say at least 20 people were injured as police sought to quell the unrest in Ratnagiri, Maharashtra state.
On Monday one person died as protesters attacked a police station close to the proposed site at nearby Jaitapur.
Activists say the region is prone to earthquakes and fear a repeat of the disaster at Japan's Fukushima plant.
Indian Environment Minister Jairam Ramesh has said extra safeguards will be taken in light of the crisis in Japan.
But local villagers also fear the $10bn (£6bn) plant - expected to be the biggest in the world - will ruin their traditional fishing grounds.
Towns around the Jaitapur site were brought to a standstill on Tuesday by a strike called by the Hindu nationalist Shiv Sena opposition party.
Reports said protesters attacked the hospital to stop a government autopsy taking place on the activist killed on Monday. Some fear the autopsy will not be impartial.
TV pictures also showed police wielding batons trying to disperse protesters who lit fires to block a road to the construction site.
Anger boiled over after Mr Ramesh last week ruled out a "rethink" on the planned six-reactor facility. Work is due to begin this year.
He accused opposition groups of whipping up trouble.
"They (Shiv Sena) have just made this a political issue," he told the Times Now news channel.
"I have said it before and say it again, apart from nuclear energy we have no other choice."
The proposed plant is to be build with help from the French energy giant Areva.