US girl survives Golden Gate Bridge fall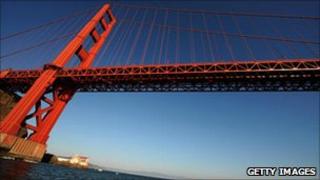 A 16-year-old girl survived a fall from the Golden Gate Bridge in San Francisco in the US state of California, officials have said.
The girl was in the waters of San Francisco Bay for about 20 minutes on Sunday before being pulled to safety.
She was transported to the city's Marin General Hospital but an update on her condition was not available.
It is unclear if the girl jumped or fell from the bridge deck, which is roughly 200ft (61m) above the water.
The San Francisco fire service received its first call about the girl, who was found conscious and responsive, at 1053 local time (1753 GMT) on Sunday, and the US Coast Guard located her at 1113, said Lt Jeremy Pichette.
About 25 people per year die in jumps from the Golden Gate Bridge, officials say.
A 17-year-old boy survived after leaping from the bridge in March. Officials do not believe he was attempting suicide.