Afghanistan: Iran engineers 'kidnapped in Farah'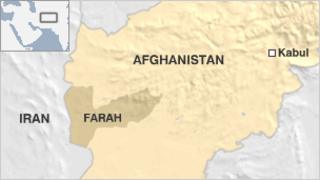 At least nine Iranian engineers have been kidnapped in a remote area of western Afghanistan, officials say.
The men had been working on a road-building project in Farah province when they were taken by gunmen, an official quoted by AFP news agency said.
Provincial spokesman Naqibullah Farahi blamed Taliban militants, although the group has denied involvement.
Afghan criminal gangs and insurgents have previously carried out kidnappings of foreign workers.
Most are released unharmed following negotiations.
Last year, British aid worker Linda Norgrove was kidnapped in northern Kunar province and died during a failed rescue attempt.
French journalists Herve Ghesquiere and Stephane Taponier remain in captivity after being abducted in Kapisa province east of Kabul in 2009 by suspected insurgents.
Farah province borders Iran and has seen significant Taliban activity.