Nepal: Kathmandu hit by acute fuel shortage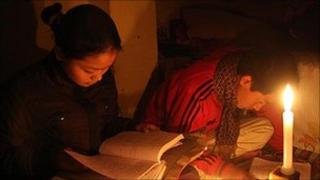 Nepal's capital is suffering acute fuel shortages because the state-owned oil company says it cannot afford to import more fuel from India.
The Nepal Oil Corporation says price rises in the wake of the Libya crisis have meant it is making a loss on the sale of petrol, diesel and kerosene.
It means many households and businesses can no longer use generators.
Nepal endures up to 14 hours of power cuts every day and relies heavily on the use of fuel-based generators.
Long queues of cars and motorcycles can be seen at petrol stations throughout the capital, Kathmandu.
The fuel shortage began last week after a tanker strike and two national holidays disrupted supplies to the capital.
Since then, Nepal's oil corporation has not been able to buy enough fuel from India to make up for the shortfall and meet the capital's needs.
"Due to this heavy loss, we are unable to supply sufficient fuel," Nepal Oil Corporation (NOC) spokesman, Mukund Prasad Dhungel, told the BBC.
Mr Dhungel said that the NOC owed the Indian Oil Company nearly $50m (£30.7m). However, he added that Nepal's government had provided a loan to the company to enable it to pay off the debt in the next few days.
"The situation will improve slightly because we will pay India," he said.
He said the only long-term solution to the problem was for the government to raise fuel prices so that the corporation could make a profit from its sales.
The government is due to discuss raising fuel prices next week.