'One killed' in Afghan rally over detained cleric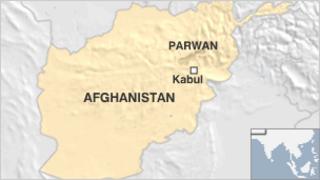 At least one person has been killed in violent protests against the detention of a local religious leader in eastern Afghanistan, officials say.
Police and protesters clashed in Charikar, the capital of Parwan province, north of the capital, Kabul.
About 3,000 protesters had gathered for the rally when armed men in the crowd started shooting. Police say the situation is still volatile.
On Sunday, three men were detained by Afghan and Nato-led foreign forces.
Two of the men were later released but the religious leader remains in custody. Officials said at least 10 people were wounded in the clashes.
Correspondents say the town of Charikar, close to Nato's Bagram air base, is a relatively peaceful area.