Greg Mortenson's Three Cups of Tea 'inaccurate' - CBS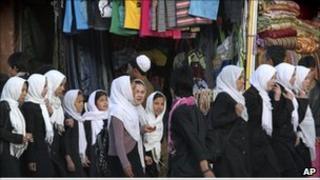 The best-selling book Three Cups of Tea, which follows the author Greg Mortenson's mission to build schools across Central Asia, is filled with inaccuracies, a US news programme says.
The CBS 60 Minutes report alleges his charitable foundation took credit for building schools in Afghanistan and Pakistan which do not exist.
It says Mr Mortenson uses the charitable group as a "private ATM".
Mr Mortenson denies the allegations, saying he stands by the book.
In an interview with the Bozeman Daily Chronicle newspaper, Mr Mortenson, the founder and executive director of the Central Asia Institute (CAI), said he hoped "these allegations and attacks, the people doing these things, know this could be devastating for tens of thousands of girls, for the sake of Nielsen ratings and Emmys".
Three Cups of Tea was released in 2006 and became a best-seller through word of mouth.
The book describes how Greg Mortenson, a mountaineer, got lost while trekking in northern Pakistan, only to be rescued by the residents of a remote village. In the book, he says the kindness of those he encountered inspired him to build a school.
The CBS report, which aired on Sunday, says Mr Mortenson visited Korphe, a farming village in north-east Pakistan, close to one year after his K2 attempt.
While he stressed he stood by the information in the book, Mr Mortenson said in a written statement that "the time about our final days on K2 and ongoing journey to Korphe village and Skardu is a compressed version of events that took place in the fall of 1993".
Mr Mortenson has said he visited Korphe again in 1994.
Claims disputed
In an e-mail sent out to supporters and news organisations on Sunday, before the CBS programme was due to be aired, Mr Mortenson said the report based its claims on a single year's tax return to the US Internal Revenue Service (IRS).
The report "paints a distorted picture using inaccurate information, innuendo and a microscopic focus on one year's (2009) IRS 990 financial," the statement said.
The 60 Minutes investigation says that porters who accompanied Mr Mortenson dispute his claims of being lost.
The report also alleges that a number of the schools in Pakistan and Afghanistan that were said to have been established by CAI do not exist or were built by other people.
Some principals said they had not received funds from the group for years, the report claims.
The CAI's website says it has established more than 170 schools and helped educate more than 68,000 students.
The CBS programme also questions Mr Mortenson's financial relationship with the charity.
Mr Mortenson said on Monday that CAI's success in fundraising operations, which brought in $23.7m (£14.6m) last year, meant it could build 63 new schools in 2011, in addition to those already established.
CAI has answered the questions put to it by the programme in a statement posted on its website.