Anna Hazare: India's pioneering social activist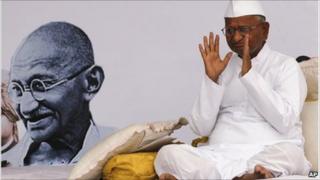 Former army driver Anna Hazare shot to public attention when he transformed his drought-affected village into a self-sufficient model community.
This frail 72-year-old, dressed in white and with a Gandhi cap, has become an icon for India's middle classes, now expressing their anger against a series of corruption scandals.
Mr Hazare went on hunger strike in April to demand stringent anti-corruption laws and in particular a law to create an ombudsman to deal with allegations of corruption.
He swiftly forced concessions from the government, which agreed to let him and other activists help draft legislation.
Born Kisan Bapat Baburao Hazare, he is well-known as a social activist in his home state of Maharashtra, where he turned his village of Ralegan Siddhi into an environmental prototype.
Mr Hazare managed to motivate the villagers to build dams and percolation tanks, to conserve water and to plant thousands of trees.
In less than a decade, Ralegan Siddhi had become a sustainable community so successful the state government officially adopted the Ralegan Siddhi model and replicated it in villages across Maharashtra.
But as part of the struggle to change his village's environmental outlook, Mr Hazare also sought social transformation. He campaigned against alcohol and tobacco and for literacy. He fought against regressive customs, such as dowry and ostentatious weddings and confronted entrenched caste attitudes.
It is this work that brought him national and international recognition by way of awards and gave him the credibility to pursue his campaign against corruption.
Fasting weapon
The three-day fast in April in Delhi was not his first. In fact, fasting has been a weapon he has used with some success several times in the past.
His previous targets have been in the Maharashtra state government. He has succeeded in getting ministers to resign and forced the government to transfer corrupt officials.
In 1997 Mr Hazare also used the fast as a way to push the Maharashtra government to enact a Right to Information law. When the government dragged its feet, he once again fasted. Finally, on the 12th day of his fast in 2003, the state government bought in the law.
That campaign was a precursor to a national campaign that culminated in a Right to Information Act passed by Parliament in 2005.
In a campaign against corruption launched in 1991, Mr Hazare argued for decentralisation and putting power in the hands of people.
He has fought for the empowerment of the gram sabha, or village parliament. This is an institution that already exists as part of the decentralised system of government introduced in 1992.
But in many states gram sabhas have not been able to take decisions. Mr Hazare believed that corruption could be checked if people knew they could ask questions and make demands of their local governments.
This latest demand for a centralised institution - a corruption ombudsman - is rooted in the belief that such a body can deal with something as endemic as corruption in India.
But it is in some ways contrary to his philosophy so far.
His work in Ralegan Siddhi on environmental sustainability centred on people taking responsibility for their village rather than waiting for the government to act.
His demand for empowered gram sabhas rested on the belief that people were best placed to make decisions about governance within a decentralised system.
In both instances he recognised centralised systems and bureaucracies as a creating conditions in which corruption could flourish.
Media enthusiasm
Given the way practically all institutions have lost credibility, even the judiciary to some extent, it seems contradictory for Mr Hazare to put all his weight behind a central ombudsman.
However, India's hyperactive 24-hour television news channels responded enthusiastically to the campaign.
The media attention encouraged more middle class citizens to come out on the streets holding candles, carrying placards, shouting slogans, singing songs and even fasting in sympathy with Mr Hazare.
The numbers were modest but the buzz on social networking sites as well as the media attention made the campaing appear larger.
Some channels even went to the extent of comparing Jantar Mantar, the place where Mr Hazare fasted in Delhi, to Cairo's Tahrir Square.
For India's middle class, and especially some young people, the romance of following a Mahatma-like figure is appealing.
They believe the series of corruption scandals over the past months have tarnished shining India's image. When questioned, few understand the systemic problems that allow corruption to become embedded.
The mood amongst them is anti-politician, an attitude that sits oddly with their being citizens of the world's most populous democracy.
Kalpana Sharma is a Mumbai-based journalist and columnist and author of the book "Rediscovering Dharavi".