Four children killed in north-western Pakistani blast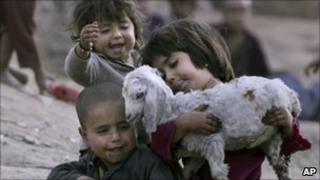 Four children have been killed and three others injured in a blast in north-west Pakistan, police say.
An investigation into the cause of the explosion is under way. Local reports say the children may have been playing with a shell or had trod on a mine.
Police say the victims, aged between seven and nine, were swimming in a pond near the town of Kohat in Khyber Pakhtunkhwa province.
The area has seen clashes between government troops and Taliban fighters.
"I talked to the bomb disposal officers at the scene and they said it was some type of explosive, maybe a mine, maybe a grenade," Zafar Iqbal - a police official in Kohat - told the AFP news agency.
More than 4,200 people have been killed across Pakistan in attacks blamed on the Taliban and other Islamist extremist networks based in the tribal belt since 2007.