Kabul woman dies after collision with UK Nato vehicle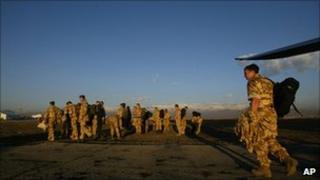 An Afghan woman has died after being hit by a British military vehicle in the capital, Kabul, police say.
Reports say the vehicle collided with pedestrians in the west of the city. Police say a woman and a child were also injured in the accident.
Police and Nato say no shots were fired by troops, contradicting earlier reports quoting police. An investigation is under way.
The issue of civilian casualties is highly sensitive in Afghanistan.
Hundreds of people marched in the streets of Kabul last month in protest over civilian deaths by foreign forces.
The BBC's Paul Wood in Kabul says tensions in Afghanistan have been high since Friday, when protests - which have left dozens dead, seven of them UN staff - began over the burning of the Koran by a US pastor.
The British military vehicle had been travelling in a three-vehicle convoy.
Nato says that a nearby patrol provided a security cordon while first aid was administered to those injured.
"After the wounded were taken by civilian vehicle to a medical facility, the Nato patrol departed the scene," a statement said.
There were riots in Kabul in July of last year when an accident involving a US embassy vehicle killed civilians.
And there were city-wide disturbances in 2006 after a US military convoy ploughed into a group of pedestrians.