US and France lament exit of Grameen's Muhammad Yunus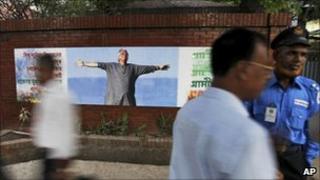 Both the US and France have lamented the removal of Nobel laureate Muhammad Yunus from the Grameen micro-finance bank he founded.
French President Nicolas Sarkozy has said his government will monitor developments and discuss the issue with the Bangladesh in the next few days.
The US has warned Professor Yunus's removal could harm bilateral ties.
Meanwhile Bangladesh's Supreme Court has adjourned hearing two last-ditch petitions challenging the removal.
Correspondents say neither of the petitions, which will now be heard on 2 May, has much chance of success and that Professor Yunus appears reconciled to leaving his job as managing director of the Grameen Bank.
President Sarkozy expressed his strong support to Professor Yunus in a letter released to the French press by Friends of Grameen, a voluntary organisation established to promote the microcredit activities of the bank and its affiliates.
He wrote that the creation of the Grameen Bank "was an audacious initiative, which has been an ongoing source of inspiration for the international community".
"I know the difficulties you are going through at the present moment. I trust the institutions of your country will find a fair resolution to these.
"The French government will closely monitor the situation and will definitely address the issue with Bangladeshi authorities over the next few days."
'Politically motivated'
The US Assistant Secretary of State for South Asia, Robert Blake, said on Tuesday said that his country had a "strong interest in maintaining close relations" with Bangladesh, which he called "a democratic and moderate Muslim country".
But he told a congressional hearing he had, during a visit last month to Dhaka, "warned that a failure to find a compromise that respects Dr Yunus's global stature and maintains the integrity and effectiveness of Grameen could affect our bilateral relations".
On Tuesday the Supreme Court upheld the argument of the Bangladesh central bank that Professor Yunus had been improperly appointed while past retirement age.
But Professor Yunus said the attempt to remove him from Grameen Bank had been politically motivated.
The Grameen Bank has pioneered micro-lending to the poor by giving small loans to millions of borrowers.
It was in effect Prof Yunus's last legal option to keep his job as managing director of the Grameen Bank. In March Bangladesh's High Court ruled that his dismissal was legal.
His supporters say he fell out with Bangladesh's Prime Minister Sheikh Hasina after trying to launch his own political party in 2007.