Indian activist Anna Hazare begins anti-graft fast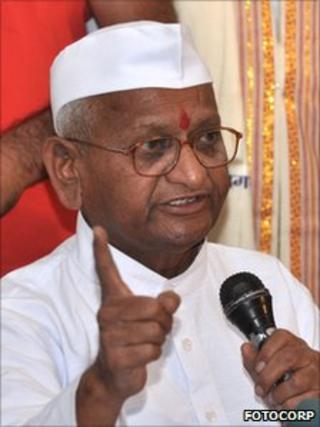 Indian social activist Anna Hazare has begun what he has called a "fast unto death" to pressure the government to act on corruption.
The 72-year-old campaigner says he will refuse all food and drink until the government enacts a comprehensive anti-corruption law.
The government has set up a committee to consider a bill, but Mr Hazare wants civil society included in the process.
India has recently been hit by a series of high-profile corruption scandals.
Last month a survey said corruption in India cost billions of dollars and threatened to derail growth.
The report by consultancy firm KPMG said that the problem had become so endemic that foreign investors were being deterred from the country.
The government has set up a group of ministers, headed by Agriculture Minister Sharad Pawar, to look into the contents of the proposed anti-corruption bill.
But Mr Hazare said this was not enough: "I was saddened when the prime minister rejected the demand by leading civil society members to include them and senior ministers in the joint committee to draft the Jan Lokpal Bill (Citizen's Ombudsman Bill)," he told a press conference on Monday.
Mr Hazare - who is from the western state of Maharashtra - has based himself at the Jantar Mantar, Delhi's 18th Century observatory, for the duration of his fast.
Retired police officer Kiran Bedi, social reformist Swami Agnivesh and former cricketer Kapil Dev have all added their support to Mr Hazare's cause.
India has been reeling under a spate of corruption scandals including a multi-billion dollar telecoms scandal, alleged financial malpractices in connection with the Commonwealth Games and allegations that houses for war widows were diverted to civil servants.
Last month the head of the country's anti-corruption watchdog was forced to resign by the Supreme Court on the grounds that he himself faced corruption charges.
Critics of the government say that recent scandals point to a pervasive culture of corruption in Mr Singh's administration - adding to the difficulties of a politician once seen as India's most honest.
The government denies the claims and has set up a parliamentary inquiry into corruption.