Pakistan profile - Leaders
President: Mamnoon Hussain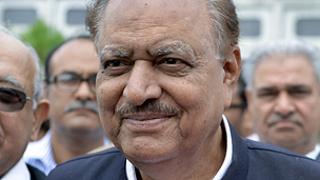 Mamnoon Hussain was elected to the largely ceremonial role of president by parliament in July 2013.
He succeeded Asif Ali Zardari, who stepped down at the end of his five-year term as the first democratically-elected president to complete a full-term in Pakistan. He took over from military leader Pervez Musharraf, who resigned under threat of impeachment.
Mr Hussain is a textile businessman and close ally of Prime Minister Nawaz Sharif.
Prime Minister: Nawaz Sharif
The Muslim League conservative party won parliamentary elections in May 2013, returning Nawaz Sharif to power for a third time.
Mr Sharif, a wealthy industrialist from Punjab, first emerged in the 1980s as a protege of military ruler Zia ul-Haq, and went on to serve as elected prime minister in 1990-1993 and 1997-1999, alternating in office with the left-leaning Pakistan People's Party (PPP).
Army chief Pervez Musharraf deposed him in a coup in 1999, and Mr Sharif spent the following eight years in Saudi exile.
His victory in 2013 - again over the PPP - marked the first transition from one elected government to another in the country's history.
He set out an ambitious programme of public works, fighting corruption and ending US drone attacks on the Taliban and al-Qaeda.
His first major breakthrough was the launch of peace talks with the Taliban in March 2014, but these collapsed following a Taliban assault on Karachi airport in June, which prompted a major army offensive on Islamist strongholds in the northwestern border area with Afghanistan.
In 2014 Mr Sharif's government also faced a campaign of sometimes violent anti-government demonstrations and rallies by protesters demanding political and electoral reforms.
The December 2014 Taliban massacre of school pupils in Peshawar brought mainstream parties together in a campaign to root out Islamist armed groups and their protectors within the state system, but few observers in Pakistan expect the Sharif government to respond more decisively than did its predecessors.