Afghanistan: 'Policeman' kills two Nato soldiers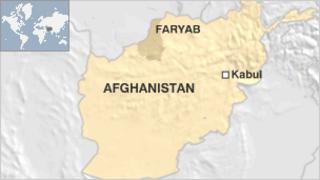 Two Nato soldiers have been shot dead by an Afghan border policeman in Afghanistan's northern Faryab province, local officials say.
They say the victims were Americans, adding that the gunman fled the checkpoint where the shooting happened. Nato is now investigating the incident.
But another account says that the shots were fired from a nearby house and the police officer ran away at that point.
Nato is due begin transferring power to local Afghan forces in July.
'Mobile phone recovered'
The Afghan border policeman opened fire on the Americans after a verbal clash during a joint patrol, a senior Afghan official in Faryab told the BBC.
"I was inside [a building] having tea and discussing various issues with my American adviser, when we heard gunshots," the official, who spoke on condition of anonymity, told the BBC's Bilal Sarwary.
"The soldier had fired one full magazine of his AK-47. He had fled the compound before we could get to him," the official said, adding that the policeman's mobile phone was recovered later.
However, another account from a local police general says that shots were fired from a nearby house and the officer at the checkpoint ran away at that point because he feared for his life, the BBC's Paul Wood in Kabul reports.
The shooting is thought to have happened in the provincial capital, Maymana.
Nato has so far not confirmed that the victims were Americans.
If the attacker in this incident is proven to be a member of the security forces, it would be the latest in a string of attacks by Afghan security personnel on foreign forces.
The deadliest was last November when an Afghan policeman killed six US soldiers.
Nato's exit strategy for Afghanistan involves progressively handing over to the local security forces.
Seven provinces and cities were named in the first tranche of areas to be transferred to local control in July.
There are now more than 260,000 Afghan security personnel, of whom more than 160,000 were trained over the past year.
The US is investing $11bn (£6.82bn) a year in the training mission.
But with so many new recruits being taken on, there are questions over the vetting process, the extent to which the Taliban may have infiltrated those forces, and their loyalty and reliability, our correspondent says.
The attack comes at a time of heightened tension in Afghanistan. There have been days of violent protests across the country over the burning of a Koran in the US last month.
On Friday, 14 people, including seven UN staff, were killed in Mazar-e Sharif, one of the areas to be handed over to Afghan control as US-led forces begin to withdraw in July.