Pakistan: Ten die when bomber hits Fazlur Rehman convoy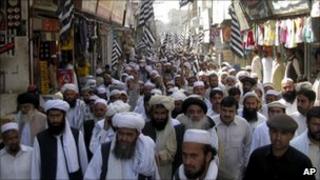 At least 10 people have been killed in north-west Pakistan after a suicide bomber hit the convoy of a radical religious leader, police say.
At least two of those who died in the blast near Charsadda were police guarding Maulana Fazlur Rehman, who was unharmed. Thirty others were injured.
It is the second time in as many days that Maulana Rehman has been targeted. An attack on Wednesday killed 10.
Taliban militants are thought to have carried out the bombings.
Maulana Rehman is one of Pakistan's most famous politicians, with a strong support base in the north-west.
Although his JUI-F party is close to militant organisations, BBC correspondents say insurgent leaders were angered by a Wikileaks cable showing Maulana Rehman apparently offering help to US officials in return for greater political power.
Maulana Rehman and others who were implicated said Wikileaks was part of a Zionist-American conspiracy.
The JUI-F leader said that he did not know who might want to attack him.
"My car was substantially damaged in the attack. There is blood everywhere... my clothes are covered in blood," he told reporters minutes after Thursday's attack.
"The bodies were blown out of the car... We are trying to get the dead and injured out of here and to hospitals.
"I can't say who is behind these attacks but its definitely due to our political ideology."
Ties with Taliban
Officials say the bomber was a young man on foot, who blew himself up after being intercepted by a police escort vehicle.
Officials say the blast ripped through the police vehicle.
Charsadda police chief Nisar Khan Marwat told the BBC that at least two policemen inside were among the dead - the rest were locals, he said.
Maulana Rehman escaped unscathed, although two of his aides were injured.
The dead and injured were immediately taken to hospitals by people who had been attending the rally.
The BBC's Syed Shoaib Hasan in Karachi says the JUI-F enjoys political importance because of its close ties to Taliban militants - its members run dozens of madarassas in Balochistan believed to provide many of the "foot soldiers" for the current Afghan conflict.
Maulana Rehman himself comes from Dera Ismail Khan district - located next to the Waziristan region which has been a centre of Taliban militancy.
He has overwhelming political support in these areas, having won several elections there, our correspondents say.
Until recently, the JUI-F was part of Pakistan's ruling coalition.
However, it walked out of government following the Hajj scandal - in which massive sums of money were alleged to have been misappropriated at the religious affairs ministry.