Joy and despair after cricket epic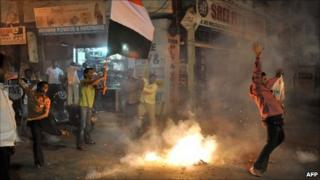 Indians are celebrating after their cricketers beat arch-rivals Pakistan in the World Cup semi-final. Hundreds of millions of people watched one of cricket's most keenly anticipated contests for years. BBC correspondents on either side of the border describe scenes of jubilation and despair.
Sanjoy Majumder, Mohali
The party has begun in Chandigarh.
For most of the day, this was a ghost town - its streets and markets deserted as people stayed indoors or gathered in bars and cafes to watch the match.
The lucky few who managed to get their hands on a ticket were at the venue - the cricket ground at Mohali which was a full house.
But as soon as India claimed victory, people flooded back onto the streets, dancing, singing and chanting "India, India".
Firecrackers are going off everywhere and people are driving up and down in their cars honking and waving giant India flags.
For many people here, winning this match was more important than winning the Cricket World Cup.
"We have never lost to Pakistan in a World Cup and we never will," shouted one delirious fan as his friends hoisted him onto their shoulders for an impromptu victory dance.
Many of the fans at the game have come here from Delhi and Mumbai (Bombay) as well as from overseas - and the road to Delhi is sure to be jammed with partying fans as they head back home.
No one is thinking of the final against Sri Lanka just as yet. They want to savour this moment.
Syed Shoaib Hasan, Karachi
It was a match that promised to raise the spirits of a nation that has been beset with problems. Millions of fans had crowded into public parks and hotels to watch the game.
They cheered as Pakistan seemingly reined in the powerful Indian batting line-up to what many said was an achievable score. They remained confident as the batsmen got off to a good start.
But tempers started to fray as the wickets fell. Fans questioned how the players paced the innings and grew increasingly despondent.
By the time the last wicket fell, most had left the major venues or switched off their televisions.
The streets here have remained empty and while there was a burst of traffic as India swept to victory, emotions have been muted.
Cars that had been draped with flags have now been shorn of their national colours.
Despondent fans are angry with the way Pakistan played, although a few said the team had acquitted themselves well.
Many people had stocked up on firecrackers and extra ammunition for their weapons anticipating they would fire in the air to celebrate a great Pakistan victory.
In the end, there were some fireworks and shooting - but people did so in anger and desperation when the respite from bad news they so hoped for failed to materialise.