Seven die in Pakistan suicide bike bombing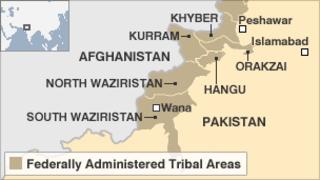 At least seven people have been killed when a suicide bomber riding a motorbike blew himself up near a crowd in north-western Pakistan, police say.
The crowd had gathered along a road to greet a prominent hardline Islamist leader, Maulana Fazlur Rehman of the Jamiat Ulema-e-Islam party.
The attack took place near a police checkpoint in Swabi town, 70km (44 miles) from the capital, Islamabad.
It is the latest in a series of attacks near the Afghan border.
Police said at least 12 people were injured in the attack.
Maulana Rehman was on his way to the venue when the blast happened, news agency AFP quoted party spokesman Jalil Jan as saying.
"He is safe and the meeting has been cancelled. We can't immediately identify the attackers. We don't know who is involved. But we can say the target appears to be the JUI leadership," he said.
North-west Pakistan has been a stronghold of Taliban and al-Qaeda-linked militants and is the scene of frequent militant violence.