Pakistan army shell kills troops in battle with Taliban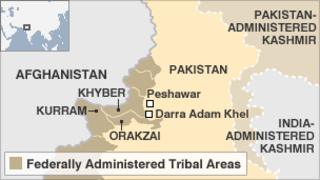 At least 13 Pakistani soldiers have been killed by one of their own mortar shells during a battle with Taliban militants in the north-west.
The military says the shell blew up as it was being launched against the insurgents in Khyber region. The soldiers' funerals have been held.
Earlier, officials said the soldiers were killed by insurgents.
Pakistani forces are fighting across the lawless tribal belt, where Taliban and al-Qaeda militants are based.
It is not clear if any militants were killed in Monday's fighting in the Akakhel area of Khyber.
Funerals for the 13 soldiers were held with full military honours in the city of Peshawar on Tuesday.
Afterwards, a military spokesman explained how the men died. He said security forces had been ambushed by militants during a search operation. An exchange of fire ensued during which mortar shells were used.
According to the spokesman, the shell exploded as it was being fired, and killed or seriously injured all those in the immediate vicinity.
BBC correspondents say Khyber has been a hotbed of recent militant activity and troops are frequently targeted.
Khyber has also recently been targeted by US drones - one of the few times such attacks have taken place outside the militants' main sanctuary of Waziristan.