Pakistan court to reassess Zulfikar Ali Bhutto hanging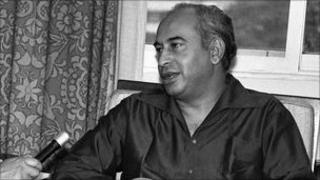 The Pakistani cabinet has supported moves to re-examine the death sentence meted out to former Prime Minster Zulfikar Ali Bhutto in 1979.
Mr Bhutto led the country's first democratically elected government, but was ousted from power in a military coup in 1977.
He was hanged two years later in what is widely seen to have been a controversial death sentence.
It was thought to have been at the behest of military ruler Zia-ul Haq.
National importance
A government spokesperson said President Zardari will shortly put the case before the Supreme Court.
Mr Zardari is the head of the Pakistan People's Party (PPP), founded by Mr Bhutto, and is his son-in-law.
Mr Bhutto's daughter Benazir - who was married to Mr Zardari - like her father also served as prime minister, but she was assassinated while in opposition in 2007.
Information Minister Firdous Ashiq Awan told the media the proposal to reopen the case was presented to the cabinet by Law Minister Babar Awan.
The information minister said the cabinet unanimously endorsed the proposal.
On Sunday, Mr Awan revealed to the media that the PPP had decided to approach the court for a review of the 1979 verdict that led to Mr Bhutto's hanging.
He said that the case would be filed before the Supreme Court within two days of a formal approval by the cabinet.
It comes as the anniversary of Mr Bhutto's death looms on 4 April.
Legal experts say the constitution empowers the president to ask for the Supreme Court's ruling on a matter of national importance.
But the question of whether the case can be reopened is a complicated one given that the Lahore High Court rejected a similar plea some years ago.