Afghan building site truck bomb kills 20 in Paktika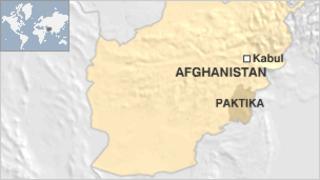 At least 20 people were killed when a truck, full of explosives, was detonated at a construction company's headquarters in eastern Afghanistan.
Fifty others were injured in the attack which took place on Sunday night in the Barmal district of Paktika province.
The dead and wounded included labourers, engineers and security guards, the AFP news agency reported.
The Taliban said they carried out the attack. They told the BBC the target was a police and military base.
The province shares a border with Pakistan's restive tribal areas and has seen more violence in recent times.
But the BBC's Paul Wood in Kabul says only last week the Afghan authorities claimed that security there had dramatically improved.
Local officials could travel safely to every part of the province, it was claimed.
Pakistan-based militants
Being on the border with Pakistan, it has been relatively easy for militants based there to send in suicide attackers.
The radical Haqqani network, a branch of the Afghan Taliban based in Pakistan and said to be close to al-Qaeda, has always been active in Paktika, out correspondent says.
But Nato has claimed a number of successes against the militant network, capturing or killing key figures.
Nevertheless, our correspondent says, this latest attack shows that the insurgents retain the ability to inflict significant damage.
A record number of civilians were killed in Afghanistan last year.
A recent UN report on civilian deaths said the Taliban were responsible for 75% of all deaths.
It said the proportion killed by Afghan and Nato forces fell, accounting for 16% of civilian deaths.
The UN says the remaining casualties could not be attributed to any one side in the conflict.