Indian navy captures 16 Somali pirates on Iranian ship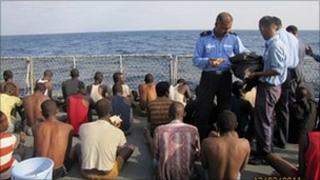 India's navy has seized 16 Somali pirates after a three-hour-long battle in the Arabian Sea, a spokesman said.
The navy also rescued 16 crew members of a hijacked Iranian ship west of the Lakshadweep islands. The crew included 12 Iranians and four Pakistanis.
The navy said the pirates were using the vessel as a mother ship to launch attacks in the Indian Ocean. They were trying to seize another ship.
Attacks by pirates off the Indian coast have become increasingly violent.
A fortnight ago, the navy said it had seized 61 pirates and rescued 13 crew from a Mozambican vessel after a gun battle in the Arabian Sea.
Indian navy ship Suvarna and Coast Guard ship Sangram intercepted on Saturday a pirate mother vessel called Morteza, an Iranian trawler hijacked by the pirates off Lakshadweep, an official said.
Morteza has been used as the mother vessel by the pirates, he added.
The pirates were attempting to capture another merchant ship, MV Maersk Kensington, he said.
Piracy in the Indian Ocean has been on the increase as pirates seek to avoid naval patrols elsewhere.
In February a group of 28 suspected Somali pirates were captured in the Indian Ocean in a joint operation between the Indian coast guard and the navy.