Sri Lanka Cricket World Cup ticket sales controversy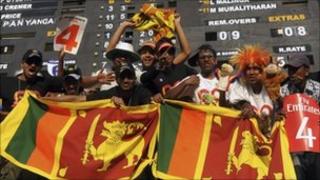 Police officers in Sri Lanka have been accused of taking part in a ticket sales scam.
Fans queuing to buy tickets told BBC Sinhala that they saw police officers buying cheap tickets and selling them on at much higher prices.
Maj Gen Lawrence Fernando, the security advisor to Sri Lanka Cricket (SLC), denied the allegations.
Sri Lanka, India and Bangladesh are the co-hosts of the 2011 cricket World Cup.
Maj Gen Fernando, told the BBC that the police were there to control the crowds and not to get involved in ticket sales.
"People may say different things but the police do not have special privileges," he said.
In Sri Lanka, thousands of fans gathered in the capital Colombo on Tuesday as the cheapest tickets for Saturday's quarter-final against England were released for Rs 300. (£1.68 or $2.72)
But many fans said they could not buy tickets.
"I have been waiting in the queue since 9pm last night but could buy a single ticket," a fan told the BBC Sinhala service.
Many accused the police officers of buying the cheapest tickets in bulk and selling them for much higher prices.
"They were selling the cheapest tickets for Rs 2000 ($18.11 or £11.19) to 5000 ($45.27 or £27.97)," another fan said.