Pakistan: Karachi activist dies as killings continue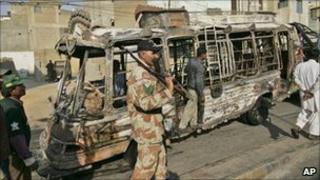 A political activist has been killed along with three others as targeted killings continue across Pakistan's southern port city of Karachi.
At least 50 people have been killed over the past fortnight, rights groups say.
Large parts of Karachi remain partially closed due to the violence
Political activists are frequently targeted by rival groups. The latest one to be killed was a member of the Muttahida Qaumi Movement (MQM).
Among the others killed on Friday was a Pathan street vendor; many of those killed belong to the city's Pashtun community, police say.
Ethnic targets
Karachi has been the scene of growing ethnic tensions due to the arrival of thousands of Pashtuns fleeing conflict in north-west Pakistan.
Dozens of people have been targeted on an ethnic or sectarian basis across Karachi.
The BBC's Syed Shoaib Hasan in Islamabad says it appears as if the security forces are unable to stem the violence.
Police say the number killed is lower than the estimate put forward by human rights groups.
The violence started with an attack on 12 March on the offices of a local political group allied to Pakistan's main governing political party, the PPP.
While most of the dead are ordinary citizens - usually belonging to the Pashtun community - civilians from the Baloch and Urdu-speaking community have also died.
Local Pashtun activists say Karachi's largest party, the MQM, is behind most of the violence. The MQM denies this.
On Monday, a senior MQM leader blamed the violence on gangs of extortionists and land grabbers who had taken the city hostage.