Karachi political attacks kill 50, say rights groups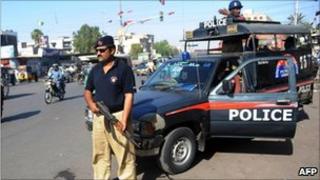 At least 50 people have been killed over the past fortnight in targeted killings in the Pakistani city of Karachi, rights groups say.
The violence started with an attack on 12 March on the offices of a local political group allied to Pakistan's governing political party, the PPP.
Dozens of people have since been targeted on an ethnic or sectarian basis across Karachi.
Police officials say most of those killed belong to the Pashtun community.
Karachi has been the scene of growing ethnic tensions due to the arrival of thousands of Pashtuns fleeing conflict in north-western Pakistan.
'Politically motivated attacks'
Police say the number killed is lower than the estimate put forward by human rights groups.
"According to the figures we have, 109 people have died in violent incidents since 12 March," Saud Mirza, chief of Police in Karachi, told the BBC.
"Out of these only 34 people have been killed in politically motivated attacks."
But the police statistics are contested by local journalists and human rights activists, who say that the actual number of victims is much higher.
They say that the police only confirm political activists or leaders as dying in targeted killings - whereas in reality many more die in attacks carried out against people of specific ethnicities by gunmen.
While most of the dead are ordinary citizens - usually belonging to the Pashtun community - civilians from the Baloch and Urdu-speaking community have also died.
Local Pashtun activists say Karachi's largest party, the MQM, is behind most of the violence. The MQM denies this.
On Monday, a senior MQM leader blamed the violence on gangs of extortionists and land grabbers who had taken the city hostage.
Dr Farooq Sattar was speaking after President Asif Zardari said in an address to parliament that those destroying the peace in Karachi would be dealt with severely.
However police say that several arrests have been made of individuals involved in the killings.
"The situation is now being brought under control," police chief Saud Mirza said.
But human rights organisations say the situation in Karachi is increasingly dangerous and a cause for great concern.
"The continued spate of targeted political killings in Karachi is appalling, as is the inability of the political actors in the city to negotiate their differences peacefully," said Ali Dayan Hasan, Pakistan representative of Human Rights Watch.
"It is the job of the provincial and central governments to ensure the writ of the state is established in the metropolis.
"They must ensure that all political parties complicit in these target killings - whether part of the provincial coalition or not - should be held to account.
"It is a documented fact that all political forces in Karachi, whether it is the MQM or the state, have engaged in human rights abuses including targeted killings in the past."