Pakistan suicide car bombing kills five near Hangu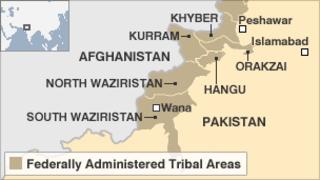 A suicide car bomb near a police station in a restive province of north-west Pakistan has killed at least five people, police say.
Some 25 people, including a policeman and some pedestrians, were injured by the blast in Khyber-Pakhtunkhwa province, reports said.
The car exploded in Doaba, a town about 30km (18 miles) from Hangu district, reports said.
It is the latest in a series of attacks near the Afghan border.
The bomber had failed to strike the police station because of the security barricades outside the building, police said.
"The driver rammed his car into the barricades outside the police station causing a huge explosion. Rescue work is ongoing," Hangu police chief Rashid Khan told the BBC.
Part of the police station was demolished by the blast and the impact damaged at least 10 houses nearby, he added.
The BBC's M Ilyas Khan says that Doaba has a history of militant attacks. The Pakistani Taliban have a number of hideouts in the nearby lower Orakzai region.
Police and paramilitary troops are frequently targeted by the militants, our correspondent says, but civilians account for the largest number of casualties.
Earlier this month, at least four people, including three policemen, were killed in an explosion in Hangu.
More than 30 people, including women and children, were injured in the blast which took place near a police patrol van.