Stop Afghan school attacks, Hamid Karzai tells Taliban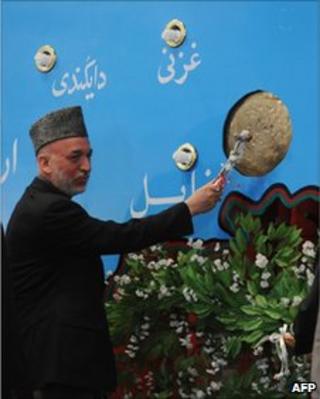 Afghan President Hamid Karzai has urged the Taliban to stop attacking schools.
Mr Karzai said that if the Taliban wanted foreigners to leave Afghanistan, they should let children be educated.
"Burning schools is a cowardly act," he told the nation. The militants have targeted many schools - more than 400 others are shut for fear of attacks.
About eight million children are expected to go to school this year, a third of them girls. Female education was banned under the Taliban.
'Serve the nation'
"Don't destroy the future of this poor suffering nation that finally has some opportunities," Mr Karzai said in a televised address to mark the first day of school after the Afghan New Year holiday.
"The school is a public place where the sons and daughters of this land learn, in order to serve the nation. If you want foreign troops to leave this country, than let Afghan sons and daughters be educated."
Mr Karzai also criticised the standard of education in many private schools, saying some were more interested in making money than in providing good teaching.
School enrolment has risen sharply since the Taliban were driven from power in 2001, but estimates still suggest fewer than a third of Afghans are literate.
Education Minister Ghulam Farooq Wardak said about 500,000 more children were due to go to school this year than did in 2010.
It is thought four million others are still unable to attend, many because of insecurity. Girls and their schools are still particularly vulnerable to attack.
Schools and teachers are regularly targeted by the Taliban, who have threatened to attack anyone working for the Western-backed government.