US welcomes Karzai's Nato pullout plan from Afghanistan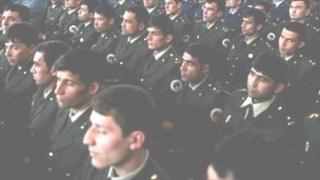 The US has welcomed Afghan President Hamid Karzai's announcement that his forces will take charge of security in seven areas from July.
Secretary of State Hillary Clinton said Afghans must take responsibility for their own future.
On Tuesday, Mr Karzai said the Afghans would manage the provinces of Panjshir, Kabul and Bamiyan, the cities of Herat and Mazar-e Sharif and Mehtar Lam town.
Lashkar Gah, capital of volatile Helmand province, was also named.
The handover is seen as a critical step in a transition of power before foreign troops end combat operations in 2014.
"We look forward to troop reductions starting in July and continuing based on conditions on the ground, with the transition to be completed by the end of 2014," Mrs Clinton said in a statement.
"The United States is also currently negotiating a bilateral Strategic Partnership Declaration with Afghanistan.
"This new partnership will contribute to building up Afghanistan's capacity and institutions, as well as to improved economic and political relations between Afghanistan and its neighbours well beyond 2014," she added.
Earlier, in a BBC interview, the commander of international forces in Afghanistan, Gen David Petraeus, said progress against the Taliban was significant but also fragile and still reversible.
There were already signs of a spring offensive by the insurgents, he said.
'First step'
On Tuesday, President Karzai said the people of Afghanistan did "not want the foreigners to take responsibility for security any more".
This is the first step in a long process of withdrawal, which will begin in July when the first tranche of foreign troops is set to leave Afghanistan.
After that, in these areas, the primary role of foreign troops will be to train and equip Afghan security forces, he said. Nato troops will cease to engage in battle.
President Karzai said that the handover would eventually be extended to individual districts outside of the cities named.
The entire province of Kabul, including the capital of the country, would come under Afghan control - but the restive district of Surobi would remain in foreign hands.
The BBC's Quentin Sommerville in Helmand, which has seen the worst of the violence over recent years, says that despite rising casualty numbers, the surge of extra American troops and tens of thousands of new Afghan police and soldiers have improved security in a number of areas in the country.
But, our correspondent says, this transition comes with a risk.
Although much improved, the quality of Afghan police and soldiers is patchy - and many people fear they will be unable to withstand a renewed summer offensive from the Taliban, our correspondent says.
Analysts say that it is only to be expected that these regions will once again be the focus of a lot of activity as the Taliban will be planning to seize them back.