Huge challenge for unprepared Afghan police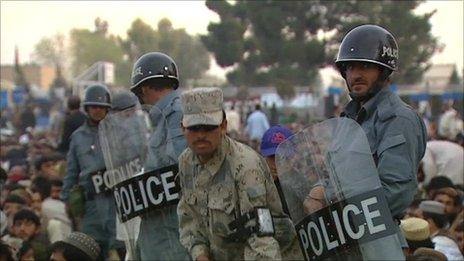 The city of Lashkar Gah, in one of Afghanistan's most volatile provinces, is among areas to be handed to Afghan forces. The BBC's Quentin Sommerville finds a place with more freedoms after a coalition offensive, but a police force unprepared to protect it.
On a warm spring evening at the Karzai stadium in the middle of Lashkar Gah, something special is taking place.
Thousands of Afghan men and boys have come to see a music concert; there is even a separate screened-off section for women in the audience.
This would be a prize target for the Taliban, but still 10,000 people stream through the gates.
And as the concert starts, there is barely a Nato soldier in sight.
Afghan security forces are in charge: police, intelligence service personnel and border police patrol the stadium and keep an eye on the crowd.
Seven areas in the country are undergoing a transition of responsibility for security from foreign forces to Afghan, and the concert is the perfect example of this, said Lt Col Dougie Graham, commander of 2 Scots, the Royal Highland Fusiliers in Lashkar Gah.
But, he warned, the police face a huge challenge.
"Some of them are pretty unprofessional still, some of them need a pretty strong directing hand and teaching them how to be better.
"But the way I look at it we are five years into developing a police force and in the UK we have had a professional police force for 150 years. You cannot build it overnight," he said.
In a place where women wear burkas, and are seldom seen, here was one performing on stage.
Farzana Naz was the main attraction at the concert. She appeared on stage flashing her bare arms and without a headscarf.
It was all a bit too much for the men watching - hundreds surged forward. But with batons raised, the police kept them in check.
Afterwards, Farzana Naz explained why she came.
"My heart was telling me not to come here because I knew Helmand was a dangerous place but now that I am here I feel very happy, I feel secure. I ask those who think Helmand is dangerous to come here because security is much better now," she said.
Last year thousands of extra American troops - part of a 30,000 strong surge - began arriving in Afghanistan. At the same time there was a dramatic increase in the number of new recruits to the Afghan army and police.
The coalition said the surge has improved security, but the true test will come in the next few months, when the Taliban, after a winter lull, take up arms again in large numbers.
Lashkar Gah may feel safer, but you do not have to travel far from the city to reach Taliban-held ground.
At a police checkpoint, a handful of Afghan patrolmen get ready to go on an operation with the soldiers of 2 Scots.
One of the policemen removes his boots - he has no socks, he complains. Another is wearing body armour without any protective plates - it is almost useless.
But the police appear fearless as they move from compound to compound, through the fields of wheat and the opium poppies.
A pistol and two-way radio are found, along with some detonators for a rocket-propelled grenade. The insurgent using them manages to slip away.
Their commander Ahmad taunts the Taliban over a the radio. "Come and have a go," he says. But today, the insurgents do not appear. Afterwards, back at their base, he says his men need more support.
"It is not possible to secure a country with the kinds of weapons we have got now. We should have our own air force, helicopters and other modern weapons to make us able to take the control of our areas," he said.
Their checkpoint is split in two. On one side the men from 2 Scots are well supplied and orderly. Each man has his own cot and someone is always on guard.
But on the Afghan side, it's a different matter. The police live together in a metal shipping container. Their boots lie in a pile outside the door. As they huddle in blankets, they bicker and fight.
One patrolman is asleep at his lookout.
The two sides get on well. The Afghans lend the soldiers their gas stove, so they can fry chips, and the British soldiers give water to the police, but there is clear separation between them. And soon the police will be left to guard the compound alone.
That comes with risks. As the day ends, while overlooking the road they are meant to be guarding, the police smoke hashish.
Then the music and dancing begins - it is wild and feverish. One policeman says the pressure of the job is almost unbearable.
"There's fighting all over Afghanistan, but it is at its worst in Helmand. My friends at this checkpoint haven't seen their families in years, their villages are controlled by the Taliban. They'd be killed if they went home," he said.
They have sacrificed much: three policeman are killed every day. And for them it is only going to get worse.
Some parts of this country are beginning to emerge from chaos, the police here will be left to protect it.
But for now, they hardly seem ready to stand alone.