Karzai to name areas for pullout of Nato troops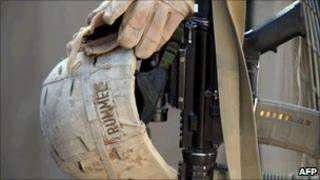 Afghanistan's President Hamid Karzai is due to name five or six areas of the country which will pass from control by foreign troops into Afghan hands.
The areas could account for about a fifth of the Afghan population.
One of the cities expected to be handed over is Lashkar Gah, the capital of the troubled Helmand province.
The handover is seen as a critical step in a transition of power, taking place before foreign troops end combat operations at the end of 2014.
Despite rising casualty numbers, the surge of extra American troops and tens of thousands of new Afghan police and soldiers has improved security in a number of areas in the country.
President Karzai is expected to announce as many as six places where Afghans will now be fully in charge, although foreign troops will still provide support.
In Lashkar Gah, thousands gathered in a stadium on Monday to watch a concert, celebrating the Afghan new year.
Unthinkable a year ago, this was a bold expression of confidence by the people in a city that now fees safer.
But this transition comes with a risk.
Although much improved, the quality of Afghan police and soldiers is patchy - and many people, both here in Helmand and elsewhere, fear that they will be unable to withstand, when it comes, a renewed summer offensive from the Taliban.