Pakistan Christian's death 'not due to natural causes'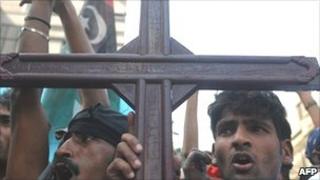 A Christian convicted of blasphemy in Pakistan has died in mysterious circumstances in a jail in the southern city of Karachi.
Qamar David was serving a life sentence in Karachi's central jail for insulting the Koran and the Prophet Muhammad.
Officials say he died of a heart attack but his family say that as a fit and healthy man, this is unlikely be true.
Pakistan's penal code prescribes punishments up to death for blasphemy against Islam and the Prophet.
The law has elicited strong criticism - although recently liberals are more nervous about speaking out against it.
That appears to be especially the case since the murder of Minority Affairs Minister Shahbaz Bhatti - a Christian - earlier this month, an event preceded by the murder of another liberal, Punjab Governor Salman Taseer in January.
David was convicted of making blasphemous comments against the Koran and the Prophet in a text message to a business rival.
'Threats'
"My client was in perfect condition the last time I met him," Qamar David's lawyer Pervez Chaudhry told the BBC.
"I have spoken to the family and we don't believe he died a natural death.
"He had been receiving threats against his life.
"I had submitted an application in this regard in court - my client had also mentioned that prison officials were involved."
Mr Chaudhry's arguments have been backed up by the dead man's family.
"I visited him quite regularly and he had never complained of any illness," Shahid Sagar, David's cousin, told the BBC.
"He was certainly not in the kind of condition that would make him drop dead all of a sudden. I can't accept this report of him dying of a heart attack."
But prison officials are adamant that David died of natural causes.
"There is no question about it - he died of natural causes," Sindh Inspector General of Prisons Ghulam Qadir Thebo said.
Mr Thebo said that the dead man was lodged in a Christians-only wing - so there was no question of him being targeted by Muslim prisoners.
"Our investigations have not yielded any evidence of foul play," Mr Thebo said.
"There is no evidence to suggest he was murdered."
However he added that further inquiries could be conducted if demanded by the family.
Qamar David worked as a supplier of cosmetics to local shops in Karachi.
He was a resident of Lahore - where his family now lives - but was kept in jail in Karachi, which is part of Sindh province.
Mr Chaudhry said that David's wife is now on her way to Karachi and is expected to ask for a post mortem examination when she arrives on Wednesday.