Nepal stops using images of former king on banknotes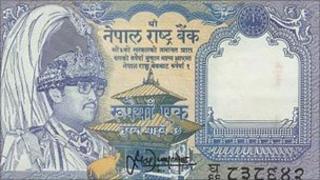 Banknotes carrying the image of the former king in Nepal have ceased to be legal tender.
The change takes effect from 15 March, but the central bank says old notes can be exchanged for new ones depicting Mount Everest for several more weeks.
The bank estimates that 10bn rupees ($135m; £85m) has yet to be exchanged.
Since Nepal has had its own currency, the king's portrait or name has been inscribed on it. Nepal became a republic in May 2008.
From 1962 Nepal was governed by monarchs or a ruling family.
After a decade-long Maoist rebellion, a peace agreement was reached in 2006. The monarchy was finally abolished in 2008.
The former king, Gyanendra, is now living as a civilian.
Confusion over the deadline for the old notes has led to long queues at banks as people try to change their money.
"Though we tried to convince the locals that they can exchange the notes even in coming days, they refused to buy our argument," bank manager Bal Mukunda Thakur told The Himalayan Times.
"They were of the view that the notes will be demonetised from tomorrow and local traders' refusal to accept the bills also fanned the flames of confusion."