Bangladesh Court adjourns microcredit pioneer's appeal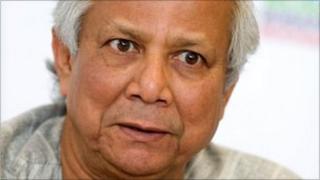 The Bangladeshi Supreme Court has adjourned for two weeks the hearing on an appeal by Nobel laureate Muhammad Yunus against a High Court decision to uphold his sacking from Grameen Bank.
Prof Yunus quit as head of the bank after officials said that at 70, he was past the mandatory retirement age.
His supporters say the move is linked to his attempt to enter politics in 2007, a charge the government denies.
Prof Yunus told the BBC the priority was to ensure the bank's stability.
"The Supreme Court gave the adjournment as the lawyers of Prof Yunus did not receive a certified copy of the earlier High Court judgement," assistant Attorney General Ekram Ul Haq told the BBC.
Eight million borrowers
Earlier this month, the High Court rejected Prof Yunus's petition challenging the Central Bank's decision to sack him from the post of managing director of the Grameen Bank.
His lawyers argue that the Grameen bank enjoys special status and therefore he was exempt from the normal retirement rules.
Meanwhile, in an interview with the BBC, Prof Yunus said the main priority should be to maintain the stability of the Grameen Bank, which has more than eight million borrowers, most of them rural women.
"The important thing for Grameen Bank right now is transition so that the bank continues to function smoothly without any kind of shock or uncomfortable feeling about it. That's what we should be concentrating on," he said.
Prof Yunus fell out with Prime Minister Sheikh Hasina in 2007 when he was trying to set up a new party.
The government owns a 25% stake in Grameen, which pioneered the microfinance concept of lending small amounts of money to the poor which has been replicated worldwide.