India takes action against pilots 'using fake licences'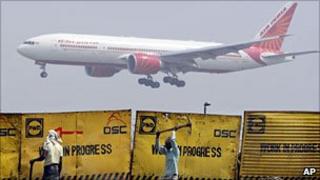 The licences of all airline pilots in India will be checked after at least four people were discovered flying aircraft with alleged fake documents.
Aviation chief Bharat Bhushan said that two pilots had been arrested for using fake certificates to gain licences.
He said that one of those was an Air India pilot with false qualifications.
Two other pilots are still being investigated. The licences and other documents of 500 airline pilots have been checked so far.
A total of 4,000 pilots will be checked.
Mr Bhushan said that the second pilot was arrested last week after an aircraft was damaged while attempting to land. He said that a subsequent inspection of her papers showed that she had used fake documents to get a licence.
The news is the latest of a series of scandals involving Indian airline pilots - even though the country has a relatively good safety record. On Friday the authorities said that they were taking action against 57 pilots who had reported for duty drunk over the past two years.
Over the same period there have also been reports of pilots falling asleep while flying and pilots fighting with air crew.