Afghanistan 'suicide bombing' kills 36 at army centre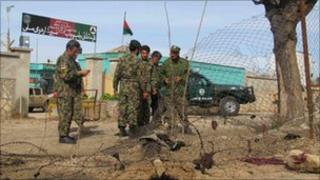 At least 36 people have been killed in an apparent suicide attack on an army recruitment centre in northern Afghanistan, local officials have said.
More than 40 people were also reported to have been injured in the attack in the city of Kunduz.
On Friday, the Kunduz province police chief was killed by a suicide bomber.
Over the past few years, the once peaceful province has become increasingly unstable as the Taliban have infiltrated the area.
The Taliban have said they carried out this attack. Afghan President Hamid Karzai condemned it as an "unforgivable act of terror".
People were waiting in the recruitment centre when the attack took place, a senior official told the BBC's Bilal Sarwary.
Those killed included civilians - some of them women and children - as well as men who had come to enrol, and officers in the Afghan army, he said.
A doctor in a hospital in Kunduz has told the BBC he received 33 dead bodies and that some of the injured were in a very serious condition.
This blast is just the latest in a series of attacks targeting Afghanistan's security forces and civilians, the BBC's Quentin Sommerville in Kabul says.
In December 2010 Taliban attackers targeted Afghan military bases in Kunduz and in Kabul.
Increased attacks
The attack comes four days after the provincial police chief of Kunduz, Abdul Rahman Sayedkhili, was killed by a suicide bomber on a motorcycle in the city, along with four other people. The Taliban say they carried out the attack.
And last month, 30 people died in another suicide bombing in the city.
The Taliban have been warning Afghans not to allow their sons and brothers to join the country's security services.
The police and army are undergoing a rapid expansion as they prepare to take control from foreign forces, due to end their combat operations in Afghanistan in 2014.
The United Nations has said the insurgents are changing their tactics and are now increasingly targeting civilians, in an effort to hinder the transition of power in the country, our Kabul correspondent adds.
A record number of civilians were killed in Afghanistan last year. More than 2,700 civilians died in 2010 - up 15% on the year before.
A UN report on civilian deaths said that the Taliban were responsible for 75% of all deaths. The numbers killed by Afghan and Nato forces fell, accounting for 16% of civilian deaths
Analysts see this as a critical year for the conflict: fighting is expected to get worse and human rights groups fear that the Taliban are becoming more brutal.