Raymond Davis: Pakistan court avoids immunity ruling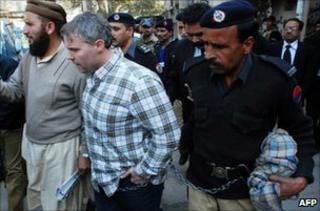 A Pakistani high court has declined to rule on whether Raymond Davis, a CIA contractor arrested for killing two men in Lahore, has diplomatic immunity.
The Lahore High Court closed the case saying a decision on his immunity should be made by the lower court which is already hearing the criminal trial.
That hearing is due to resume on Wednesday, when Mr Davis could be indicted for murder.
The case has already soured relations between the US and Pakistan.
Correspondents say the latest development will only further strain ties as the US insists he has diplomatic immunity. The Pakistani government is facing immense domestic pressure to put Mr Davis on trial for murder.
Hundreds of Pakistanis have taken part in street demonstrations and the widow of one of the dead men killed herself, having said she had no hope of justice.
Mr Davis was arrested in Lahore in January after he shot dead two men. He has said that he killed them in self-defence as they were trying to rob him.
A third man was run over by a US vehicle that came to the American's aid. Mr Davis is charged with two counts - murder and possession of illegal weapons.
Public anger intensified after unnamed US officials said that Mr Davis had been secretly working for the CIA at the time.
'Business visa'
"The matter about immunity will be decided at the trial court," Justice Ijaz Ahmed Chaudhry said in his order at Lahore's High Court.
At the hearing on Monday lawyers representing Pakistan's Foreign Office confirmed that Mr Davis has a diplomatic passport and that he was issued with an official business visa.
But it said that it was up to the court to rule on whether he had immunity in view of the Vienna Convention and Pakistan's Consular Relations Act.
Raymond Davis has already filed a petition in the lower court claiming that he cannot be tried because he has diplomatic immunity.
The High Court said that it was now up to the lower court to make the decision on this issue.
The BBC's M Ilyas Khan in Islamabad says an open acknowledgement by the Pakistani Foreign Office that he had diplomatic immunity was likely to lead to a public backlash - something the government is keen to avoid at this point.
It looks as if the Lahore High Court has also wriggled out of the situation by passing responsibility to a lower court, our correspondent says.
This makes it more likely the trial court will further delay any indictment of Raymond Davis.
In addition to postponing a public outcry, any delay gives the Pakistani authorities, as well as the Americans, time to appease all different parties with an interest in the case and find a suitable way out with the help of the families of the men Mr Davis shot dead, our correspondent says.
There has been a suggestion from Pakistani Prime Minister Yousuf Raza Gilani that it could help if compensation was paid to them.