Kathmandu's 'granny orphanage'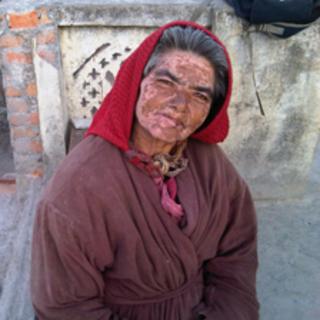 Nepal is currently experiencing one of the fastest-ever shifts from extended families to nuclear ones. The changes are having devastating consequences for some of the country's elderly, who have no one to look after them, as Lucy Williamson reports from Kathmandu.
Tucked away at the end of a steep pathway, behind a busy Kathmandu shopping street, is a house full of children.
The framed documents on the wall tell you this is a charity, and orphanage. But it's also a sign of how quickly families here in Nepal are changing. Because the most interesting residents here are the silent ones: elderly women, crammed four or five to a room.
They watch us, their eyes guarded, as we enter.
The truth is that these days, this ramshackle building is known less as an orphanage, and more as a sort of care-home for abandoned grannies.
Papers and clothing litter the front room, where the woman who set up the granny orphanage, Dil Shoba, sits, wrapped in cardigans.
"Everyone knows about me," she says. "If the police or hospitals find somebody without a home, they call me. The women are often in a bad way when they come here, some of them can't speak, or they've lost limbs."
There are 30 women in the home now. Two more arrived just before we did, picked off the street.
"I bring them in as long as they have a heart beat," Dil tells us. "They don't need gold: they just need love."
'They want to split up'
Kathmandu's granny orphanage is one sign of Nepal's rapid shift to a nuclear family model.
Another is the mushrooming of children's day-care centres across the city. Money and education and contraception are changing what people want - and expect - from their families.
Drive out from Kathmandu into the hills around it - and after a few hours of winding around the breath-taking peaks - you'll come to Mylee's village.
A generation ago, everyone here in Nepal knew what a family looked like: it looked like Mylee's.
Her small, white house is home to 10 people: Mylee herself, her husband, four sons, one daughter-in-law and three grandchildren.
Looking around her village, not much seems to have changed in the past 30 years - buffalo still rub shoulders with the human residents on the little family plots - but inside the cool, dark houses a social revolution has quietly taken place: Mylee's is now the only extended household in the village.
"Other families send their kids to school, and after they've got a good education they want to split up," she told me. "In my family nobody's been able to go to school, so we stay together, and share everything."
The benefits, she said, included sharing household tasks, and being on hand to deal with any potential problems - drug addiction among her offspring was something Mylee was particularly worried about.
But there's another benefit too - the status of Mylee herself. And as more and more young people choose different jobs, in different places; have fewer children; want independent lives, the older generation are finding their insurance falling away.
The pace of change has been so quick here, it's created not so much a generation gap, as a generation chasm, which the state hasn't yet plugged.
That's something Dil Shoba at the granny orphanage is only too aware of.
She relies mainly on private donations to pay for food, bills and - every couple of months - cremation costs. The residents here all tell vivid stories of how values have changed in the time it took their children to grow up.
But despite the new problems, for most residents here living apart is still unthinkable.
Hear more about Kathmandu's granny orphanage - and the wider changes in Nepal - in the World Service documentary, Family Matters, at 1205 GMT on 14 March.