Afghan suicide blast kills Kunduz police chief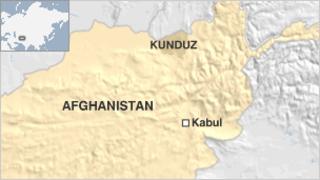 The police chief of the northern Afghanistan province of Kunduz has been killed by a suicide bomber.
Witnesses said the bomber had approached Abdul Rahman Sayedkhili in the street in Kunduz city and detonated the device.
Officials said at least two other people had been killed and eight injured.
Police and security forces are often targeted by militants in Afghanistan, where violence is on the increase.
"The bombing was a suicide bombing carried out by an individual on a motorbike," said regional police commander Gen Daud Daud.
He told the AFP news agency the death toll could increase.
But Kunduz governor Mohammad Anwar Jigdalek told Reuters the bomber had approached on foot while the police chief was on patrol with about 50 other officers.
"After the attack there was some gunfire in the city and now Nato helicopters are flying over the city," said Mr Jigdalek.
Kunduz was once a relatively quiet part of the country but has become much more unstable in recent months.
Last year was the deadlist for Afghan civilians since the Taliban were ousted in 2001.