India: Arrests before Telangana 'million-man' rally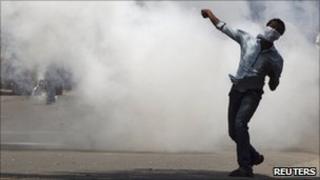 About 50,000 people have defied an unofficial curfew in the Telangana region of south India's Andhra Pradesh state to rally for a separate state.
Police say that 100,000 people have been detained - many in public auditoriums and stadiums - to prevent them attending the rally in Hyderabad.
Those held include the head of the Telangana Joint Action Committee and about 50 members of the state assembly.
The protesters dubbed their gathering as a "million-man" rally.
But in the event few demonstrators were allowed by the authorities to congregate.
Widespread protests
Deep divisions have emerged over the Telangana issue over the past 15 months.
In December 2009, India's Congress Party-led government promised that the new state would be formed, but later said more talks were needed.
The announcement prompted widespread protests in the region.
In the latest disturbances on Thursday, police used tear gas and batons to disperse protesting students at Osmania University in Hyderabad.
In addition, barricades and police road blocks were set up all over Telangana to prevent people from attending the "million-man rally".
The BBC's Omer Farooq in the city says that there is a tense atmosphere there and elsewhere across Telangana with schools, shops and businesses closed down.
Our correspondent says that the police security operation made it practically impossible for protesters inside and outside Hyderabad to attend the rally - all train and most bus services in Telangana were suspended.
Among those detained was Kodanda Ram, head of the Telangana Joint Action Committee, along with about 50 members of the Andhra Pradesh state assembly who support separate statehood.
The BBC's Soutik Biswas in Delhi says that the latest protests could once again re-ignite the Telangana issue and provoke further mass demonstrations.
The final decision on a new state lies with the Indian parliament. But the state assembly must also pass a resolution approving its creation.
Opponents of the move are unhappy that Hyderabad, home to many major information technology and pharmaceutical companies, could become Telangana's new capital.