Pakistan anti-Taliban militia 'ends government support'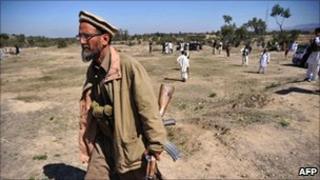 The head of a powerful anti-Taliban militia in north-west Pakistan has said he will end co-operation with the government, one day after a deadly suicide bombing targeted his group.
At least 38 people were killed when the Taliban bombed a funeral procession for the wife of a tribal elder.
Dilawar Khan accused the government of failing to provide enough support.
Several anti-Taliban tribal groups are based in the area and they are often attacked by insurgents.
The suicide bombing hit Mr Khan's militia in Adezai, in the Matani area, some 15km (10 miles) from Peshawar city. His is an anti-Taliban force, which was set up with government support.
No compensation
On Thursday the chief minister of the north-western Khyber Pakhtunkhwa province, Amir Haider Khan Hoti, said that as the militia play an important role in the fight against militancy, it is the responsibility of the government to support it, Pakistan's APP news agency reported.
He was visiting the hospital where dozens of those injured in the bombing were being cared for.
But Mr Khan told the BBC that the government has not paid any compensation to the families of militia members killed by the Taliban in recent years.
"We have lost 47 men in three years. Twenty-six of them were killed in suicide attacks, others fell in targeted attacks. Some of our prominent members have been killed in remote-controlled explosions, or shot outside the village mosque or their homes.
"The government has paid compensation to the heirs of not a single one of these people," he said.
Mr Khan said that the militia would pursue its own agenda from now on.
Correspondents say this could mean the force stops attacking the Taliban as militants seek to gain influence in the troubled region.
"We are ending all co-operation with the government. We will not forgive Taliban for the death of our people, but we will avenge these deaths in our own way now," he said.
"Eight days ago more than 100 Taliban launched an attack on my house and shelled the entire village with mortars and rockets.
"We fought them and repulsed them. Later we demanded of the government to provide us with ammunition and other things as we were running low on these things, but they did not listen," Mr Khan said.
The BBC's M Ilyas Khan in Islamabad says militia leaders have repeatedly made such demands, but resources have not been forthcoming.
"We did not raise our force by choice. We were caught between the government forces and Taliban. Both would shell our houses. When we complained to the police and administration officials, they said you will continue to be hit from both sides until you raise a force to counter Taliban. So we did that," Dilawar Khan said.
"The top administration and police officials of the time said they would give us everything from guns and ammunition to vehicles and other resources. But three years have gone by and we have not received a single bullet from them."
Government officials say the militia did receive help from the government, but that no promises were ever made regarding weapons and money.
Our correspondent says the government may be wary of providing too many resources to militia leaders because some have questionable credentials.
The Taliban said Wednesday's bombing was in retaliation for the militia's support of the continuing anti-Taliban operation by Pakistan's security forces.
The Adezai area has also seen frequent Taliban attacks on police stations and security posts.
Until recently, the tribal anti-Taliban force had been conducting night patrols to discourage Taliban attacks but it ended some weeks ago for lack of arms and ammunition.
On Tuesday 26 people were killed and more than 120 injured in a car bomb explosion at a gas station in the industrial city of Faisalabad.