Grameen founder Muhammad Yunus in final appeal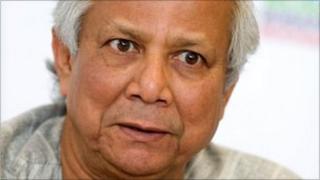 Bangladeshi Nobel laureate Muhammad Yunus has lodged a final appeal against his sacking as head of the Grameen microfinance bank he founded.
The Supreme Court will hear the case next Tuesday.
The central bank fired Prof Yunus last week, saying he was past retirement age and had been improperly appointed. He says the move is politically motivated.
Grameen Bank pioneered micro-lending to the poor by giving small loans to millions of borrowers.
The model has been replicated throughout the developing world.
In a ruling on Tuesday, the High Court upheld the sacking.
Relations between Grameen Bank and the government of Prime Minister Sheikh Hasina worsened in 2007, when Prof Yunus attempted to set up a new party while she was under house arrest on the orders of the country's then military government.
Prof Yunus removal from his post has sparked criticism from some of Bangladesh's foreign donors, including the US.
He says his dismissal is part of a government plan to eventually enable its own people to take control of the bank. The government denies this.
The BBC's Anbarasan Ethirajan in Dhaka says there are fears the bank's stability could be damaged. It serves more than eight million people, most of them rural women.