At least 100 Gorkhas arrested in Darjeeling, India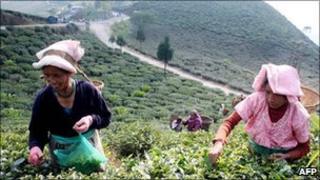 At least 100 people have been arrested after holding protests in India's tea-producing hill region of Darjeeling in the state of West Bengal.
Those held are members of the Gorkha Janamukti Morcha (GJM) party who are campaigning for a separate state for Nepali-speaking Gorkhas in the region.
The GJM says thousands of its members have been arrested this year. Police say most are quickly released.
Correspondents say that tensions are escalating ahead of state elections.
The West Bengal government is still awaiting a response from Delhi to its call for more paramilitary troops to be deployed in the region ahead of the vote on 18 April.
It has issued warrants for the arrests of 15 top Gorkha leaders.
The BBC's Uma Kanta Khanal on the border between Nepal and India says that the latest protests have mostly been peaceful. Last month demonstrations turned violent.
The Gorkha campaign for a separate state started in the early 1980s but a settlement that gave them considerable autonomy brought the movement to an end in 1988.
However, three years ago, the movement was resumed by Gorkha hardliners who believe the autonomy arrangement has not worked.