Court upholds sacking of Grameen founder Muhammad Yunus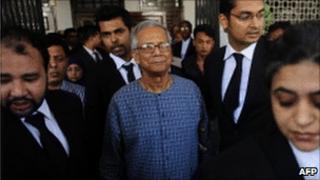 The dismissal of Nobel laureate Muhammad Yunus from the Grameen microfinance bank he founded was legal, Bangladesh's High Court has ruled.
He was challenging his dismissal after the central bank sacked him. It argued that Prof Yunus was past his retirement age and was improperly appointed.
He said the attempt to remove him from the bank was politically motivated.
Grameen Bank has pioneered micro-lending to the poor by giving small loans to millions of borrowers.
'Crystal clear'
In its ruling on Tuesday the court said that Prof Yunus was wrongly reappointed managing director of Grameen Bank in 1999 as that was a decision that should have been taken by the central bank.
It also supported the central bank's argument that Prof Yunus had violated the country's retirement laws by staying on as Grameen's head long past the mandatory retirement age of 60. Prof Yunus is 70.
Prof Yunus's lawyers say they will lodge appeal against the ruling in Bangladesh's Supreme Court.
"Prof Yunus has been continuing in his job with no legal basis, therefore his petition has been rejected," judge Muhammad Mamtaj Uddin Ahmed told the court.
The judge said it was "crystal clear" that the order to remove Prof Yunus from his post as managing director was legal.
"The managing director is an officer of the bank, and the mandatory retirement age for bank officers is 60, so he has also exceeded his retirement age long ago," he said.
The ruling was immediately condemned by lawyers for Prof Yunus and a group of charities - Friends of Grameen - led by former Irish President Mary Robinson, which argues that he had been unfairly vilified by the government.
"We are not surprised, we were expecting this. The court has just upheld the illegal order of the Bangladesh Bank," said Sara Hossain, one of Prof Yunus's lawyers. "This is a sad day for Bangladesh."
'Sucking blood'
The Friends of Grameen described the court's ruling as "fundamentally groundless and political". It pointed out that the government has three of the 12 seats on the board of Grameen Bank which unanimously reappointed Prof Yunus in 1999.
Relations between the Grameen Bank and the government of Prime Minister Sheikh Hasina worsened in 2007, when Prof Yunus attempted to set up a new party while she was under house arrest on the orders of the country's then military government.
In December, Ms Hasina accused Prof Yunus of treating Grameen Bank as his "personal property" and claimed that it was "sucking blood from the poor".
The Bangladeshi government set up a review committee the following month to look into the bank's affairs amid reports that it could be taken over.