India stud farm owner arrested for 'illegal money'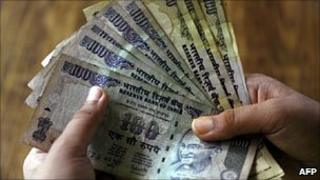 The authorities in India have arrested a stud farm owner accused of tax evasion and money laundering.
Hasan Ali Khan is alleged to have hidden $8bn (£4.9bn) in Swiss banks.
Mr Khan was detained in the western city of Pune and later taken to Mumbai (Bombay) following searches at his home and offices. He denies wrong-doing.
Last week, the Supreme Court criticised the government for not having the "will power" to act against those illegally funnelling wealth overseas.
The Supreme Court set 8 March as the deadline for the government to tell it how it proposes to tackle so-called "black money".
In an angry outburst last week, its judges demanded to know why Mr Khan and others were not being taken into custody and questioned.
"What the hell is going on in this country?" they asked, using unusually strong language for court.
Mr Khan insists he has not acted illegally. "I am innocent. I haven't done anything wrong," he told reporters after his arrest on Monday.
The US-based group Global Financial Integrity estimates that India has lost more than $460bn in illegal capital flight since Independence.
Almost three-quarters of the illegal money that comprises India's underground economy ends up outside the country, it said in a report last year.
India's underground economy has been estimated to account for 50% of the country's GDP - $640bn at the end of 2008.
Authorities say the government is taking measures to bring back the illegal money, but say there are difficulties in sharing the information because of confidentiality treaties between countries.