Bangladesh profile - Leaders
President: Abdul Hamid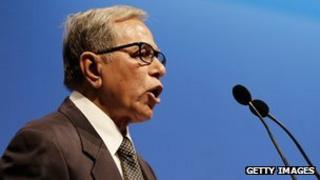 Abdul Hamid was elected unopposed as Bangladesh's president in April 2013, following the death in March of President Zillur Rahman after a long illness.
Mr Hamid, speaker of parliament since 2009, was serving as acting president in the largely ceremonial post when MPs chose him to succeed Mr Rahman.
The 69-year-old is a veteran of the governing Awami League and a long-standing aide to Prime Minister Sheikh Hasina.
President Hamid is said to have good ties with other parties, but this failed to dissuade the main BNP opposition party from boycotting the January 2014 parliamentary elections.
Prime Minister: Sheikh Hasina Wajed
Sheikh Hasina was sworn in for a third term as prime minister in January 2014 after a general election boycotted by the opposition amid an ongoing political crisis.
Her Awami League party won a clear majority in the poll, but many seats were not contested by the opposition who had demanded that a neutral caretaker government oversee the vote.
The international community called for a re-run of the election amid fears of more violence.
The opposition, led by two-times former prime minister and arch enemy Khaleda Zia, called for a blockade of roads, rail and waterways to try to topple the government. Her Bangladesh Nationalist Party dismissed the new government as a farce just like the "farcical elections".
Rivalry
Politics in Bangladesh has long been dominated by the bitter rivalry between the two women.
Sheikh Hasina was previously prime minister from 1996 to 2001, while Khaleda Zia was in power between 1991 and 1996 and again from 2001 to October 2006, when she handed over power to a caretaker administration ahead of elections.
The hostility between the women stems in part from differences over who played a greater role in the country's independence struggle - Hasina's father, Sheikh Mujibur Rahman, or Khaleda's husband, General Ziaur Rahman.
Khaleda and Hasina sank their differences when military ruler Hossain Mohammad Ershad was in power from 1982 to 1990, but their alliance ended with Ershad's departure and they have been uncompromising rivals ever since.