Pakistan: Nowshera mosque bombing 'kills nine'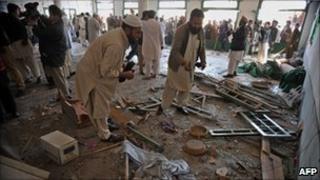 A bomb attack on a mosque in north-western Pakistan has killed at least nine people, police say.
About 30 others were injured in the blast in Nowshera district. State media said the death toll could rise.
The bombing occurred just after Friday prayers as food was being distributed to the poor.
There was no immediate claim of responsibility. Taliban militants have killed hundreds of people in bombings and other attacks in recent months.
The militants say the attacks are in revenge for US drone strikes in tribal areas near the Afghan border, in which many hundreds have also died.
Casualties in Friday's blast were taken to hospital in the nearby city of Peshawar.
"Many people had left the mosque after prayers. Otherwise losses would have been higher," said Nowshera police official Adil Khan, Reuters news agency reports.
The attack came a day after at least nine people were killed in a powerful car bombing targeting police in Hangu, some 150km (90 miles) south of Peshawar. Dozens more were wounded.