India manager 'killed by workers'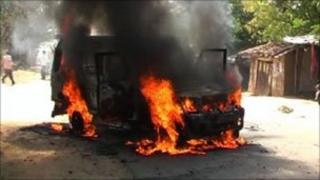 A senior manager at an Indian steel factory has been burnt to death in the eastern state of Orissa by a group of his workers, police say.
RS Roy of Graphite India Ltd died on the way to a hospital in Bolangir district on Thursday evening.
Police say workers stopped the jeep carrying Mr Roy and set it on fire. The driver and another employee escaped.
The factory had recently suspended 25 workers, reports say, and tension was running high amid rumours of job cuts.
Police said Mr Roy, 59, the deputy general manager of the factory, was about to leave work in the town of Tilagarh when a group of irate workers surrounded the vehicle, doused it with petrol and set it on fire.
Correspondents say that security guards at the company gates did not appear to have come to Mr Roy's rescue despite witnessing the incident.
Police are hunting his killers.
"It is possible that the attackers panicked after the incident and fled the town," Bolangir police chief Ajay Kumar Sarangi told the BBC.
It is not the first time in recent years that Indian workers have turned on one of their executives in an industrial dispute.
In 2008, the Indian head of an Italian auto parts company was beaten to death in a suburb of Delhi by a group of sacked workers. Lalit Kishore Choudhary, of Graziano Trasmissioni India, died at the company factory in Greater Noida.
The attack happened after nearly 300 workers the company were dismissed after they demanded pay rises.