Pakistan murder: Shahbaz Bhatti's 'goodbye' call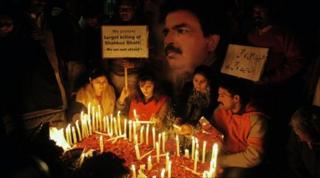 A day after the assassination of Pakistani Minority Affairs Minister Shahbaz Bhatti, the BBC's Orla Guerin describes a frightened phone call he made to the BBC just before his death and examines the growing climate of fear enveloping opponents of the country's controversial blasphemy laws.
It was a troubling phone call and it came late in the evening.
The man on the line had been told by security officials of a plot to kill him. He wanted more protection but wasn't getting it. He sounded anxious and alone, though he had a seat at the cabinet table.
The call was from Shahbaz Bhatti, Pakistan's Minister for Minority Affairs, the only Christian member of the Cabinet, now silenced forever by the Taliban. His killing was a death foretold by many, most of all Bhatti himself.
When he called that night, he was concerned about a warning from the security agencies.
"They say there's a terrorist plot to assassinate me," he said. "They've told me to be careful, but didn't tell me anything else. I haven't been given any extra security. It's just the same as it has been since I became a minister."
Though his voice sounded weary, the minister's commitment was unwavering. "I have struggled for a long time for justice and equality," he said.
"If I change my stance today, who will speak out? I am mindful that I can be assassinated any time, but I want to live in history as a courageous man."
After we ended our conversation, I could not escape the feeling that the minister had called to say goodbye.
Shahbaz Bhatti knew his days were numbered and he knew why - because of his outspoken criticism of Pakistan's controversial blasphemy laws, and his calls for reform.
Under the statutes, anyone found guilty of insulting Islam can be sentenced to death. Convictions can be based on no more than hearsay.
Human rights workers say the laws are often used to settle scores and to persecute minorities, though most of those charged are Muslim.
Last man standing
Recent casualties of the laws include a 17-year-old student accused of blaspheming in an answer on an exam paper, and a doctor who threw out a business card from a salesman named Mohammed.
The minister stated repeatedly that the laws were being used to victimise the innocent. He refused to back down, even after he was threatened with beheading.
His cause was shared by Punjab Governor Salman Taseer, who paid with his life in January when he was assassinated by one of his own bodyguards.
From then on, Shahbaz Bhatti was the last man standing - a lonely voice, unheeded even by his government.
On Wednesday morning, as he set out for a cabinet meeting, the Taliban caught up with him.
Hours after they riddled his body with bullets, we received a message from the minister, as if from the grave. He had recorded a statement in December, and asked that it be sent to the BBC in the event of his death.
"I am living for my community, and for suffering people," he said, gazing directly at the camera, "and I will die to defend their rights. I prefer to die for my principles and for the justice of my community rather than to compromise."
But the assassins who shot him almost 30 times left a message of their own - in leaflets scattered at the scene, signed in the name of al-Qaeda and the Punjabi Taliban. They promised a death sentence to anyone following in the minister's footsteps.
"With the blessing of Allah, the mujahideen will send each of you to hell," it said.
Shahbaz Bhatti's bid to reform the laws looks certain to die with him. Pakistan's government was already in full retreat from any attempt at examining the statutes, after noisy protests from the religious right.
A parliamentarian from the governing PPP party, Sherry Rehman, had to drop her reform bill, because her party won't back it. She's all but vanished from view, due to concerns for her safety.
There's now a fight for the soul of Pakistan.
Emboldened Islamists
It's not a battle of liberals versus conservatives, according to political commentator Mosharraf Zaidi, but of sane versus insane.
An aide to Pakistan's President, Asif Ali Zardari, goes further, warning of "a concerted campaign to slaughter every liberal in the country".
"The time has come for the federal and provincial governments to speak out," said the aide, Farahnaz Ispahani, "and take a strong stand against these murders to save the very essence of Pakistan."
But that seems unlikely. Critics say the state's response to growing religious extremism has been a deadly combination of silence and appeasement.
Now an emboldened Islamic movement is going after Pakistan's remaining liberals, according to author Aatish Taseer, one of the sons of the murdered governor.
"I think it's starting to seem like part of a systematic plan to silence dissent in Pakistan, to silence liberal voices and it's working," he said.
"It's been very effective. It takes a few people who are willing to instil fear in society, and it takes the silence of people who should have been speaking out."
Now Pakistan has been robbed of both a minister and a governor who dared to speak out for the voiceless, and take on the hardliners.
The fear is that the extremists are winning, by literally killing off debate.