Lavish Indian wedding celebrations continue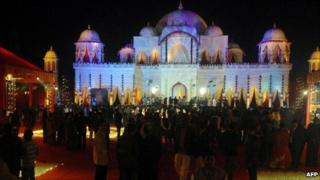 A helicopter was among the gifts for the groom in what is being described as one of India's most expensive weddings.
The week-long nuptials of Lalit Tanwar to his bride Yogita Jaunapuria are lavish and attended by thousands.
The pair married at a family farmhouse on Tuesday - the groom reportedly wore a garland made of bank notes and received the helicopter as a gift.
On Thursday the families hosted a community reception. Celebrations are set to culminate this weekend in Delhi.
Thousands of people - including Bollywood stars and politicians - have been invited to attend.
Mr Tanwar's father Kanwar is a hugely wealthy city politician from the ruling Congress party - while the bride's father is an influential former Delhi politician - making the arranged marriage a perfect power deal.
The exact details of the ceremony - which consists of four functions over a seven-day period - have been fiercely disputed.
"I don't understand why there is so much hoopla about this marriage," Kanwar Singh Tanwar told the Times of India.
"All estimates of this marriage in the media are speculation."
In the Indian Express, he was quoted as saying: "True, a Bell 429 helicopter was given but it was a simple wedding."
Extravaganza
Thursday's Indian newspapers say that the wedding was celebrated with 100 dishes and 12 giant TV screens to broadcast proceedings.
The Hindustan Times reported that 2,000 guests were invited to the pre-wedding ceremony last week and each was given a silver biscuit, a safari suit and $500 (£307) in cash, while at a different ritual the bride's family welcomed the groom with gifts worth $5m (£3m).
There was even a reported gift of $5,500 (£3,381) for the groom's barber.
The Hindustan Times says the ceremony has been held at the right time - because this week the government announced plans to introduce a bill before parliament which limits the amount of food that can be served at weddings - estimated to account for nearly 15% of the country's total food-grain waste.
Estimates as to the cost of the extravaganza vary hugely. The Times of India calculated it to be at one billion rupees ($22m/£13.5m), while the Mail Today said that it was around $55m (£33.8m).
The celebrations are due to culminate on Sunday with a VIP reception at a five-star hotel in Delhi - Prime Minister Manmohan Singh is expected to attend.