Nepal profile - Leaders
President: Bidhya Devi Bhandari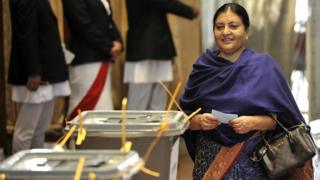 Bidhya Devi Bhandari was elected as Nepal's first woman president in a parliamentary vote in October 2015.
She was deputy leader of the Maoist Communist Party of Nepal Unified Marxist-Leninist (CPN-UML) before assuming office, and served as defence minister in 2009-2011.
The party is in a power-sharing arrangement with the centre-left Congress party.
She is a campaigner for women's rights and widow of late communist leader Madan Kumar Bhandari.
The post of president is mainly ceremonial.
Prime Minister: Sher Bahadur Deuba
Nepali Congress leader Sher Bahadur Deuba became prime minister in June 2017, in a scheduled transfer of power on the resignation of the Maoist leader Pushpa Kamal Dahal.
The two coalition parties had agreed to the switch the previous August on a rotational basis until the next election in February 2018.
This is Sher Bahadur Deuba's fourth term as head of government, as he served as prime minister in 1995-1997, 2001-2002, and 2004-2005. He was deposed by King Gyanendra twice, in 2002 and 2005, and served a brief prison term during the king's three-year period of personal rule.