Pakistan: Pervez Musharraf 'accused' over Bhutto murder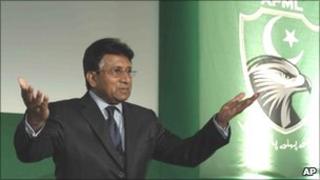 Pakistan's Federal Investigation Agency has named former military ruler Pervez Musharraf as "an accused" in an interim criminal charge-sheet.
He is said to have appointed two senior police suspected of not giving adequate protection to opposition leader Benazir Bhutto at the time of her murder.
Mr Musharraf is accused of giving the pair their orders.
Legal experts say the mention of Mr Musharraf's name in a prosecution report does not mean he is indicted.
He has denied accusations in the past that he did not provide adequate security for Ms Bhutto at the time of her death.
Ms Bhutto was killed while travelling in an election motorcade in the city of Rawalpindi in December 2007.
Public Prosecutor Chaudhry Zulfiqar Ali said that Mr Musharraf's name was included in their investigation report in the light of what the two police officials - former Rawalpindi police chief Saud Aziz and former police Superintendent Khurram Shahzad - told investigators.
Both men are under detention at the moment.
According to the prosecutor, the two officials told investigators that on the orders of Mr Musharraf they removed a security detail for Ms Bhutto just before she departed the venue where she was speaking in Rawalpindi.
She was killed shortly afterwards.
Mr Ali said it was also alleged that the scene of the crime was also hosed down on Mr Musharraf's orders. Critics say that decision meant it was much harder to gather evidence in the case.
The prosecutor further told the court that investigators had tried to contact Mr Musharraf for questioning at his London home where he lives in exile.
He said that a list of questions had been sent to him in London several months ago, but as yet there had been no response.
Officials say that investigators want to question him regarding the case before they can finalise a charge sheet against other suspected offenders.
Mr Musharraf seized power in 1999 when, as chief of Pakistan's army, he ousted elected Prime Minister Nawaz Sharif in a coup. He resigned as president in 2008.